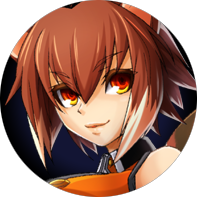 Gender:
Female
Age:
~20
Height:
163cm (5'4)
Weight:
49 kg (108 lbs)
Blood Type:
O
Nationality:
???
Eye Color:
Hazel
Hair Color:
Brown with pale streaks
Date of Birth:
April 2
Favorite Food:
Chestnut parfait, all-you-can-eat
Likes:
Sports, food
Dislikes:
Discrimination, studying
Best Sport:
Lacrosse
OOC Data
Company:
ASW
Game:
Blazblue
Status:
Available for Apps
Theme Song:
Alexandrite/Alexandrite II
Makoto Nanaya
"Let me warn you: I don't know how to pull my punches!"
A young Darkstalker, Makoto is the eldest in a large family of squirrel-like demihuman Darkstalkers Raised in an isolated village, her thirst to explore the outside world eventually became too much to restrain. Her dream is for humanity to realize not all Darkstalkers are dangerous monsters. Having joined the NOL academy as a youth, she graduated despite disappointing academic results due to her sheer athletic talents. Though Makoto is often friendly and outgoing, her attitude is tempered by her knowledge of her delicate social status and the world's bias against Darkstalkers, and she cherishes friends who can get past her looks and heritage. Previously a secret agent in NOL's Intelligence Division, Makoto became disillusioned with the organization when she discovered some of the truths behind the NOL and their coverups and quit on the spot. Since she was never a publicly identified member of the Library, NOL has chosen to save face by not announcing the full gravity of her acts against them, instead merely classifying her as a rogue Darkstalker to put a bounty on her as a person of interest. Now Makoto lives the life of an independent street fighter, entering matches and making contacts to keep herself supported, while she secretly plans her next move and how to keep her friends - some of which are still with NOL - safe.
| | |
| --- | --- |
| Style: | Bojutsu with Unique Tonfas: Impact |
| Signature Move: | Impact! -- PHYSICAL |
| Signature Ability: | SMASH -- DAZE |
Recent Logs
Semifinal 1 - Women's Team vs Heavy Meatl Burnin'
- Mai and Makoto of the Women's Team come up against the Beast of Flame in an all-out throwdown in the Slammasters Arena to decide one of KoF2k19's two finalist teams! - Log created on 17:42:54 09/21/2019 by K', and last modified on 19:49:19 10/01/2019.
Cast: K', Makoto Nanaya, and Mai.
Thunderdome - Makoto vs Hayley
- The THUNDERDOME commences. (Victor: Makoto Nanaya) - Log created on 19:11:45 07/15/2019 by Makoto Nanaya, and last modified on 22:02:11 07/16/2019.
Cast: Hayley and Makoto Nanaya.
Prelims 2 - Women's Team vs Miracle Rookies
- When the Women's Team discovers that the so-called Miracle Rookies are actually helmed by the Vampire Demitri, Mai and Makoto have a tough fight ahead of them in their second preliminary round! - Log created on 20:51:30 06/26/2019 by Mai, and last modified on 00:48:11 06/29/2019.
Cast: Demitri, Makoto Nanaya, and Mai.
Meeting with Makoto - Tea Cakes and Team Building
- Mai and Makoto have a chance meeting to talk about the KoF. - Log created on 19:49:18 05/13/2019 by Mai, and last modified on 22:28:09 05/13/2019.
Cast: Makoto Nanaya and Mai.
SNF: Christmas Cake Cleanup
- It's ladies night! Which is to say single ladies, specifically. But as the night goes long, its closing time. With one last call, all the ladies must finish their whiskey and beer; they don't have to go home, but they can't stay here. The leftovers require a special touch, and that is where Makoto Nayana comes in. Unfortunately for her, that includes Litchi, who is totally not single and has a boyfriend who lives in the Canada part of the Boundary. Fighting ensues, because it's all theater! Mean-spirited theater, but theater nevertheless. - Log created on 20:35:52 01/19/2019 by Makoto Nanaya, and last modified on 10:51:53 01/29/2019.
Cast: Litchi and Makoto Nanaya.
5 logs listed.
Character's index
Personal logs
Image Gallery
All "Feature Characters" on MotM are copyrighted by Aksys Games / Arc System Works, Capcom, Koei Tecmo, Microsoft Studios, Namco, Netherrealm Studios / Warner Bros Interactive, and SNK Playmore (and its other various corporate names such as SNK Neo Geo), respectively. Many of the settings and histories are also copyright of their respective owners. MotM and its players have modified some of this content for its own use, but such modification and use are not intended as challenge to these copyrights. Website design, coding, and original content © MotM unless otherwise specified.