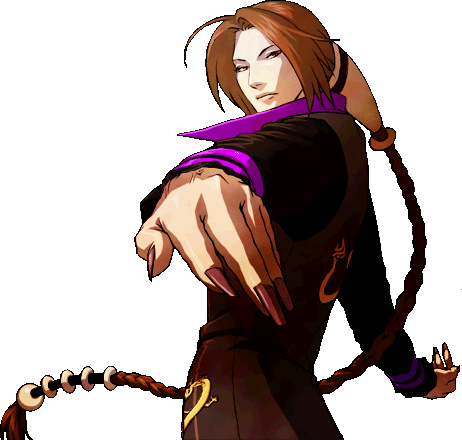 Gender:
Male
Age:
19
Height:
6'2
Weight:
162
Blood Type:
Nationality:
Chinese
Hometown:
Hebei Province, China, rural village.
Eye Color:
Black
Hair Color:
Brown
Date of Birth:
March 11th
Hobbies:
Mahjong, hunting for mythological creatures
Personal Treasures:
Mother's keepsake
Favorite Food:
Whole-roasted Bird of Paradise
Likes:
Grey days, Hizoku edicts, quiet, fitting assassination
Dislikes:
Tomato juice, loud people
Best Sport:
Murder
OOC Data
Company:
SNK
Game:
King of Fighters
Status:
Available for Apps
Theme Song:
Duo Lon
"Those who live in darkness are not ruled by it. Those drawn to the shadow do not live by it."
The latest descendant of the Hizoku family line from China, Duolon is a mysterious figure that uses his talents to operate as a killer for hire. While quiet, Duolon isn't entirely unsociable; he just gives short replies most of the time when speaking. Occasionally entering tournaments for money, he may have other agendas but keeps them well hidden. Duolon does seem to be friends with Ash Crimson and Shenwoo, though even they only get very brief dialogue with him. Incredibly agile, Duolon can dash across the battlefield in a number of ways, including teleportation and projecting attacks from unlikely angles.
| | |
| --- | --- |
| Style: | Piercing Pugilism Of The Wailing Underworld |
| Signature Move: | Habarushimu Kyaku -- PHYSICAL PROJECTILE |
| Signature Ability: | EVADE -- ESCAPE |
Recent Logs
SNF: The Riddle of the Minotaur
- Long ago, this was the legendary labyrinth for which the minotaur roamed. Now? It is only stone and dust, stacked around the centuries of growth. But what is gone is not forgotten. Here, two professional assassins face off far away from the crowds, to a more private battle between two fights. The alluring Angel challenges against the mysterious Duo Lon, as the pair battle in the moonlight as the glories of the minoan civilization stares in silence. - Log created on 11:48:50 03/30/2018 by Angel, and last modified on 18:44:58 03/30/2018.
Cast: Duo Lon and Angel.
Breaking the Bank!
- Lotus robs a bank and is making her escape! Duo Lon, being the brave soul that he is, takes her on to try to stop her! Inevitably, a fight ensues! - Log created on 13:02:21 02/13/2018 by Lotus, and last modified on 18:25:18 02/13/2018.
Cast: Duo Lon and Lotus.
Golden Angel R2 Party - Fashion Week?
- For the second round of the Golden Angel tournament, the weekly party is... a fashion show? With contestants asked to create unique swimsuit designs using nothing but Golden Angel(tm), everyone's gathered to see the results. But it looks like there s a slightly rough evening ahead for everyone involved... and some suspicious activity all around! - Log created on 20:39:08 01/27/2018 by Frei, and last modified on 20:57:46 02/10/2018.
Cast: Frei, Duo Lon, Kang, Mint, and Jack-O'.
Holiday Hunger Pangs
- Two men waiting in line for food before they embark upon Christmas shopping in Times Square. No not that one... The one in Hong Kong. Confusion and miscommunication ensue. Oddly enough, nothing particularly violent occurs. - Log created on 21:40:24 12/25/2017 by Quon, and last modified on 08:13:32 12/26/2017.
Cast: Duo Lon and Quon.
The Good Guy Defeats The Bad Guy!
- In this story, someone bad is stopped from doing further harm by someone good. - Log created on 22:09:18 09/22/2016 by Tizoc, and last modified on 20:32:02 09/23/2016.
Cast: Tizoc and Duo Lon.
5 logs listed.
Character's index
Personal logs
Image Gallery
All "Feature Characters" on MotM are copyrighted by Aksys Games / Arc System Works, Capcom, Koei Tecmo, Microsoft Studios, Namco, Netherrealm Studios / Warner Bros Interactive, and SNK Playmore (and its other various corporate names such as SNK Neo Geo), respectively. Many of the settings and histories are also copyright of their respective owners. MotM and its players have modified some of this content for its own use, but such modification and use are not intended as challenge to these copyrights. Website design, coding, and original content © MotM unless otherwise specified.